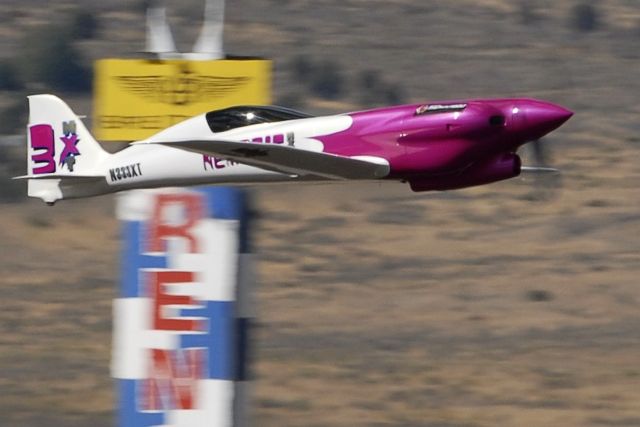 Release from NemesisNXT Website:
This year marks Sharp's 30th year of racing, but more importantly, this victory is his 14th Gold Championship. No pilot in the history of air racing has ever achieved this goal! Jon Sharp is the most successful air race pilot in the world, has broken numerous speed records, achieved several aviation awards and all with his own aircraft designs!
Sharp makes this look so easy, but it could not have been possible without his incredible team, his dedicated sponsors and his extraordinary dream to create the ultimate race planes.
Team Nemesis is often referred to as a cast of thousands and although it is true there are numerous team members, every one of them brings something to the table!
Special thanks to the Team Members, Steve Hill, the Crew Chief; Kevin Luttge, the Catia Driver/ Hardware Designer; Daren Kimura, the Aero Guy/Photographer/Chef; Steve Johnson, Mechanic Extraordinaire; Doug Shoemaker, Mechanic Extraordinaire; Lilly Ingham-Hill, Seamstress/Press/Merchandise; Mike Rosales, The Painter; Mike Fowler, The Painter; Tony Chan, The Painter; Randy Moody, Press/Chef; Phil Lane; Hydraulic Specialists; Angie Lane, Merchandise/Team Support; Angela Rosales, Merchandise/Team Support; Paul Martin, Team Support/Sponsor; Hope Martin, Photographer; Mirco Pecorari, Web Master/ Paint Scheme Designer/Team Support; Bob Callendar, Team Support; Kristen, Team Support; Stacy, Team Support. Truly without them all, none of this would be possible.
Also special thanks to all our sponsors who have been with us for years: Lycoming/Thunderbolt Engines, Aircraft Spruce & Specialty, Grove Aircraft Landing Systems, Cannon Insurance, Paul Martin Enterprises, NmXT, Tri-Tech Machines, Red Line Oil, JP Instruments, UAV Technologies and Hartzell Propellers.
And finally, this 2008 Gold Championship and the week of records at the Reno Air Races are dedicated to the memory of Team Members Lana Saliber (Reno Mom) and Larry Longmire (Mechanic and Machinist Extraordinaire/Sponsor) who have joined our Heavenly Team.
Photo by Mathew Russell